Christianity Under Siege
Details

Published: Wednesday, 24 December 2014 18:54
Written by Steve Huntley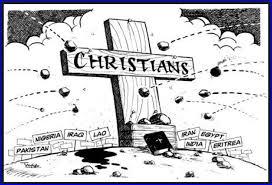 During this season of joyous religious celebrations and especially the holiday cheer enjoyed with family and friends during Christmas time, we should not forget that in too many corners of the world Christianity is under siege with Christians abused, brutalized and murdered.
Ghastly crimes like the kidnapping of nearly 300 Nigerian Christian school girls by the Islamist terrorists of Boko Haram, the beheadings of Christians by the Islamic State in Iraq and Syria, and the flight from riot and murder by Coptic Christians from Egypt during the Muslim Brotherhood reign make headlines.
But "usually unseen by the world" is the daily reality of Christians being "economically marginalized, denied education for their children, beaten, tortured, raped, imprisoned and sadly even murdered for their faith," observes Jeff King, president of International Christian Concern.
ICC's Persecution.org web site and organizations and individuals such as Open Doors and the Gatestone Institute's Raymond Ibrahim do the good work of trying to keep the plight of Christians in the public eye. Their reports, easily accessible on the Internet, make for disturbing reading.
Ibrahim wrote of a Christian convert from Islam in Uganda who established a Christian school. Hassan Muwanguzi was beaten by Muslims, hauled into court on trumped-up charges of "defiling" a Muslim girl, saw his home burned by arson, was sickened by poison, and survived an attack by four Muslims that left his 12-year-old daughter dead.
In a crime that "has shaken Pakistan's Christian community to the core," ICC reports, a mob accused a Christian couple of burning pages of the Koran, beat them and burned them alive in a brick kiln. The woman was pregnant; the mob left the couple's four children orphans.
Open Doors reports that a Christian convert in Egypt faces a five-year prison sentence and that an Anglican church in Nigeria shut down after 11 members were killed in attacks by al-Shabaab terrorists. Open Doors says that in India, Christian pupils and teachers won't have a Christmas holiday because the government declared Dec. 25 "Good Governance Day" with a student essay competition that day. Furthermore, a Hindu nationalist group says the day should be devoted to "re-converting" 4,000 Christians to the Hindu faith.
Writes Ibrahim, "An increasing number of Christians around the world, especially the Muslim world, are ... losing absolutely everything for their faith."
If only the United Nations Human Rights Council spent as much time addressing persecution of Christians as it devotes to its biased campaign to demonize Israel. Outside of protests by a few leaders like President Barack Obama, Pope Francis and Prince Charles of Britain, most of the "international community" remains silent about the abuse of Christians.
Christianity is out of favor among the West's secular elites. Even in America we've seen a petty campaign by groups like the Freedom from Religion Foundation to hound displays of Christianity from the public square. Europe seeks to accommodate its growing Muslim populations. It doesn't always work out well. A German town set aside a portion of a cemetery for Islamic burials only to have Muslim leaders demand that Christian crosses and symbols be removed or covered during Islamic ceremonies, reports Ibrahim.
One thought for this Christmas: A threat to one religion is, in the end, a threat to all -- and to all of us.
___________________________________________
Chicago Suntimes